INXS: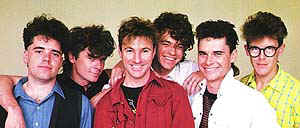 Not the greatest picture of 'em, but here they are circa 1984. I believe this picture came from the era of their fourth album entitled "The Swing". They are my favourite Australian rock band (of which there are many I like). I personally believe much of the best rock came from Australia in the 1980s. From left to right: Andrew Farriss (keyboards, guitars, vocals), Tim Farriss (guitars), Gary Garry Beers (basses), Michael Hutchence (lead vocals), Jon Farriss (drums and percussion) and Kirk Pengilly (saxophone, guitar and vocals).
Poor Michael... 'tis indeed a bleak world you left behind.
Don't change for you, don't change a thing for me.